In the wee hours of the morning, I have arrived three hours early at the door of a well-to-do woman in her late 90s who has recently passed away. It is a beautiful old home on a quiet hydrangea-lined lane of gracious Tudors and Georgians. I immediately make sure to get my name on "the list." Turns out, I'm a latecomer. The hard-core hunters arrive at one and two in the morning at a promising sale site and start "the list." They then sleep in their cars outside the house. When newcomers arrive, they must knock on car windows to find out who is guarding "the list." The lore is that down in Chicago, anyone trying to "jump the list" gets shot by one of the dealers. Up here in the suburbs, you just get yelled at and shunned. No one ever lets you on the list ever again.
When the sale begins, entry numbers are given in order of who is on the list. Arriving only three hours in advance, I am number 27, but this still leaves a lot of waiting-around time to talk. Other hunters will ask you casually what you are looking for, and some of this chit-chat is "fishing" to see what kind of competition you are and whether they'll have to hustle to beat you to an item. I have "newbie" written all over me, but I know enough to shrug and vaguely comment, "Oh, this and that . . . nothing in particular." (In reality, I am b-lining for a 6×9 oriental rug that I suspect has been way under-valued.) I in turn ask the preppy blonde mom to my left what she is looking for. "Well, you can tell from the online photos that this lady just loved yellow, so that's basically why I'm here. I think that shows, you know, a positive attitude—to fill your house with yellow. So, I knew her stuff would feel good in my house." I end up buying two 1920s yellow formal living room chairs and an entire 1950s white wrought-iron sun porch dining set with six yellow cushions.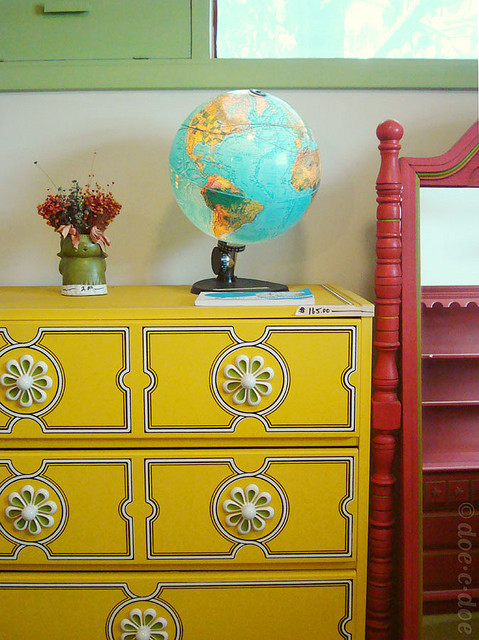 On my various estate sale hunts, I routinely come across family Bibles, Books of Common Prayer, marriage licenses, old birth certificates, confirmation certificates, and First Holy Communion certificates with related memorabilia—all for sale. This surprised me at first because these seemed like intimate heirloom items that even retirees or the deceased's family members would retain. But, in fact, these items appear fairly incidental and unremarkable in the topography of the seller's home when compared to other carefully tended collections. In one home I sifted through, I found a few styles of Seder plates and menorahs in the dining room, mingled together in boxes with other holiday effects. I then turned the corner into the husband's study and found it covered wall-to-wall in chest-high pillars of meticulously stacked Playboy magazines. It was like walking through one of those corn mazes we have here in the Midwest; this was a bumper crop of T&A as far as the eye could see. I marveled at the time and dedication it must have taken to amass this collection over the decades—the sheer devotion it took to obtain and retain each and every month of each and every year and to maintain it all in chronological order. The estate sale ad had said "downsizing sale," so I knew that the seller was not deceased. I asked the estate sale monitor who was dutifully guarding the carefully curated playmates how someone could possibly part with something that had clearly been a decades-long devotion, involving so much of his life. He laughed and said, "He was really broken up about it. They're moving down to Florida and the wife said that 'the girls' just couldn't come. No room! But I think he rescued some favorites. I've been finding some gaps here and there, and this is not a guy who would be okay with gaps." He then held up one of the covers and mimicked the playmate's pouty-lipped face to express sympathy with the poor guy who had to leave "his girls" in order to follow his wife obediently down to a life of gray-haired retirement.
Page 2 of 4 | Previous page | Next page